Vaping your weed is, in our opinion, one of the best consumption methods out there. Not only do you save on material and get a delicious flavor, but you never have to worry about inhaling smoke and all the tar and other compounds that come with combustion. One of our favorite herbal vaporizers is the Utillian 421, a portable vaporizer that is a great option for anyone looking to decrease their smoking or make the full conversion to vaping.
If you are new to using weed vapes, we'll take a second to run through the basics. To be consumed, you need to heat up your weed. This can be done by cooking it, burning it, or using a vaporizer. The heating process helps to create more THC and produce a relaxing high. Sadly burning weed also destroys some THC, lowering the potency of your herb, while simultaneously producing a wide range of other compounds that you probably don't want to inhale.
Vaporization addresses this issue by letting you inhale THC without burning your herb. By raising your weed above the vaporization point of THC, but below the combustion point of cannabis, you can create a smooth and tasty vapor instead of inhaling smoke. The smell factor is also less obvious when vaping. It's more akin to the smell of opening a container of weed instead of the tell tale smell of freshly smoked bud.
Over the last 20 years portable vaporizers have advanced from awkward fire powered vape pipes to discrete electronic herb vaporizers that offer tasty vapor and an impressive battery life. The Utillian 421 vaporizer is designed to make vaping on the go an easy process. These sleek vapes are a huge improvement on the already incredible Utillian 420. With new features including adjustable airflow, a larger battery, and haptic feedback, these vapes are a great choice for new and experienced users alike at an outstanding price.
Design
Like many portable vaporizers, the Utillian 421 looks very similar to an e-cigarette mod. This makes it a great product for anyone looking to vape discreetly. The vape itself has a curved shape not unlike a hip flask, helping it fit comfortably in your pocket. The small glass mouthpiece is attached to the top of the unit using a screw connector and covers the heating chamber.
In terms of portability, the Utillian stands at 15 x 9 x 5 cm. It fits nicely in the palm of your hand and is pretty easy to throw in a pocket and will fit in almost any bag or backpack with plenty of room to spare. When holding the vape almost the entire unit will be obscured by your hand, exposing only the glass mouthpiece. This makes it perfect for anyone who wants to enjoy a quick hit of vapor while they are on the go or to bring their vape with them to a social event.
Materials
One of the most important factors when looking at a vaporizer is the materials used in its construction. After all, you don't want to be heating plastic or inhaling unsafe glues/solvents along with your cannabis vapor. The most important path of the vaporizer is the vapor pathway. This is the portion of your vape that vapor is actually going to move through, mainly the heater and mouthpiece.
The vapor pathway of the Utillian 421 vaporizer uses a steel and ceramic heater along with a glass mouthpiece to ensure that your vapor is only contacting food safe surfaces. The body of the vaporizer is constructed from anodized aluminum to keep the internal components safe and secure. The smooth surfaces of the heating chamber and mouthpiece also have these vaporizers very easy to clean and maintain.
Operation
Using these vaporizers is remarkably simple, which is one of the reasons we recommend them to our customers who have no experience with vaping. As with any new pursuit, there will be a bit of a learning curve whenever you try a new vape, but Utillian does a great job of making their products easy to use.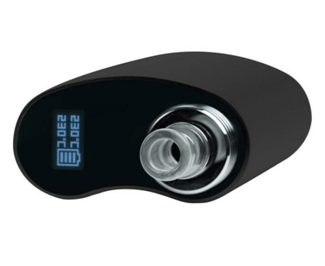 To turn the vape on, you click the button five times in a row. Once the vape is powered on, you will see a readout on a built in digital display on top of the unit. This display shows the battery level on the right and two readouts for the temperature. The bottom number is the desired temperature and the top number is the current temperature. There are 6 temperature settings in 10 degree increments from 180 degrees to 230 degrees celsius. Holding down the button will cycle through the heat settings.
Before using your vape, we recommend you turn the temperature up to 230 degrees and leave the vape for 7 minutes. After this 7 minute period the vape will automatically shut off. Repeat this process two or three times to ensure that any small amounts of manufacturing oils are successfully burnt off before using your new vape.
Once your vape has had it's dry run, you are ready to start vaping. Unscrew the glass mouthpiece and add some ground herb to the chamber before resealing the mouthpiece. Next turn the vape on and select your desired temperature setting. We recommend starting low and dialing through the settings during your session to find the sweet spot that you enjoy.
While vaping, you may want to open the chamber and give your bud an occasional stir to ensure even vaporization. Once the bowl starts to produce a "burnt popcorn" like taste, you are ready to dump it out and start over. Also be sure to remember that 7 minute shut off timer. This safety feature may end up pausing your session for a few seconds, but you will quickly learn its value after a few bowls when you completely forget to turn the vape off, only to come back to a unit that still has power next session.
As a quick side note, be sure to hold onto your vaped weed! That light to dark brown toasted bud is known as AVB/ABV (Already vaped bud or already been vaped) and it still has some THC content. If you save up enough it is a great ingredient for making homemade edibles and you can find plenty of recipes for using your vaped weed online.
Airflow
When you are using a vaporizer, there are two main factors that influence vapor quality, temperature and air flow. The higher the temperature, the more vapor you will produce. The lower the air flow, the thicker your vapor will be. This means that a hot vaporizer with restricted air flow is going to produce a lot of hot thick vapor while a cooler vape with high air flow will produce a lighter and airy vapor.
A lot of vapes, including more expensive devices like the Arizer Solo, offer only one air flow option. The Utillian 421 stands out in the world of budget vaporizers for having an air flow adjustment built in. On the bottom of the vaporizer you can rotate the air flow regulator to restrict or open up the vapor pathway. By experimenting with different temperature settings and airflow control, users can easily dial in their ideal vaping experience.
Basically you will want to choose between taking long slow draws with a higher airflow or dial the resistance up and take little sips of thick vapor. If you really open up your airflow, you may notice that your hits will decrease the current temperature of your heater and it may take a second or two for the unit to return to the operating temperature.
Vapor Quality
Vapor quality is obviously going to be important for any vaper. The flavor and thickness of your vaporizer will vary from device to device so this can be a difficult variable for new users to determine. We have to say that we were blown away by the vapor quality that these little portables put out.
Many it's all of the levels of control that users have over the vapor quality, but once you dial in your Utillian 421, you still be amazed at how clean and tasty its vapor can be. Even after several sessions we were still able to enjoy a nice clean flavor. The unit also heats up so quickly that you can really even enjoy a strong first hit if you dial in the right settings.
Sometimes, especially with low temperatures and high air flow, you will experience a slightly lighter hit that may be flavorful but not produce much vapor. This is common for almost all vaporizers, so don't worry and just take another hit and make some adjustments. If your vapor is weaker than you would like, increasing temperature or decreasing airflow should help. Follow the opposite advice if your vapor is too strong. There is really no right or wrong way to set one of these vapes as long as you are not combusting your bowls, which we have luckily found very difficult to achieve.
Battery Life
In addition to offering high quality vapor, the Utillian 421 also offers an increased battery life over the Utillian 420. The capacity of batteries is determined in milliampere hours or mAh. These vapes have a battery capacity of 2300 mAh. This provides approximately one hour of battery life per full charge. That means you can enjoy 8 or more 7 minutes sessions on a fully charged battery.
The built in display on the top of the vape makes it easy to check the charge status of your batteries so you always know when your device is running low. To recharge your batteries, all you have to do is plug in the including micro USB charger. The recharge time takes a little over an hour from a completely dead battery, so you can get back to enjoying your vape again in no time.
Maintenance
All vaporizers require some form of maintenance and the Utillian 421 is no exception. Luckily the heating chamber and the glass mouthpiece are both extremely easy to clean. The mouthpiece can be immersed in running alcohol or just cleaned with a pipe cleaner. The heating chamber is also easy to clean with a pipe cleaner or other cleaning tool. Sometimes the screen in the mouthpiece will clog, so you will have to replace it with one of the extra screens that are included with the vaporizer.
Budget
Finally let's consider the price of these vaporizers. For a vaporizer that is under 100 dollars, the Utillian 421 is honestly one of the best deals we offer. When you consider the full suite of features like the adjustable air flow and the wide variety of heat settings, it's really an incredible deal. For users who want even more savings, the Utillian 420 is a very similar device with slightly less features at an even better price. We regularly offer sales on these vaporizers so you can always find the vaporizers you are looking for at a great price.
---
If you want to try this vaporizer out for yourself, visit the portable vaporizer section of our store. There you will find several high quality vape options including dry herb, concentrate, and combination vaporizer from Utillian and other amazing vaporizer brands. We know that once you try one of these incredible vaporizers, you will be ready to give up smoking and start to enjoy all of the benefits of vaporizing your weed. We recommend the Utillian 421 to anyone who wants to take a step away from smoking and start saving their weed, enjoying flavorful hits, and enjoy using a sleek device while they're on the go.