When it comes to finding a portable weed vaporizer, sometimes the number of options on the market can be overwhelming. Luckily, we are here to help you decide what factors matter to you so you can make an informed decision and purchase a vape that you will love. If you have already been researching this topic, you have probably seen countless other blogs and videos making certain claims and hopefully we can clear up a few facts for you.
There are a few important factors to consider when choosing a vaporizer. Factors like size, battery life, heating method, and vapor production are all important. Finding the best vaporizer to meet your needs means knowing which of these factors you value.
Size
A lot of users enjoy vaporizers because they are a more discreet way to enjoy your herb. Obviously a portable dry herb vaporizer should be small enough to easily fit in your pocket or bag. Depending on how discreet you are trying to be with your portable weed vaporizer, this can be a major factor to consider.
Construction
A quality vaporizer needs to have a safe vapor path. This means that the heater and stem are constructed from food safe materials that will not leach any chemicals into your vapor. All vaporizers should be cleaned and run through a full temperature cycle before being used to ensure that any lubricants or manufacturing chemicals are safely burned off before use.
Heating
There are a few different ways to heat your weed and produce vapor. The two main types of heat that are used in vaporizers are conduction and convection. Conduction heaters work like a frying pan, with your ground bud contacting a hot surface to create vapor. Convection vaporizers circulate hot air like an oven, helping to create a more even vaporization of your bud. Some vaporizers use a combination of these two heating methods to create an even vaporization. Conduction heating is the best option for most handhelds because these systems tend to be more compact.
Vapor
Finally, you need to consider exactly how much vapor you want your unit to produce. Different vaporizers will produce different levels of vapor and have different draw resistance which can affect the vapor experience. Factors like the length of the vapor pathway and the size of the heating chamber can all affect how the vapor hits and tastes.
Battery
Nothing is worse than having your vape die in the middle of a session. A vaporizer's battery size is determined by its milliampere hour(mAh) capacity. The more mAh a battery has, the longer it will be able to power your vaporizer's heater.
So now that we know what to look for, let's take a look at the portable weed vaporizers we carry.
Utilian 420/421
Two of our most popular devices are our Utilian dry herb vapes. The Utilian 420 is a compact vaporizer measuring 15 x 9 x 6 cm, roughly the size of a ecig mod. This makes them easy to throw in your bag or pocket when you are on the go. Its appearance also makes it a great option for discreet vaping on the go, as most folks will just assume you're an ecig
The heater in the 420 is a large ceramic chamber that delivers its vapor through a glass stem, offering incredible flavour. The heating chamber is large and uses conductive heating, providing a fast heat up time so you can start enjoying your vapor in under a minute. To pack the vape, all you have to do is unscrew the mouthpiece, put your herb in the chamber, and lightly pack it so the material contacts the heater without restricting airflow.
These vaporizers have a built in battery readout and temperature display on the top of the unit that makes operation easy. The 420 has 4 temperature settings so you can cycle through each setting in your sessions and thoroughly vape your bud. Typically the 1700 mAh battery is able to power the vape for four to five 12 minute sessions on a single charge.
The Utilian 421 is an upgrade of the 420. It features a larger 2300 mAh battery with 6 heating settings. It also features adjustable air flow so you can gain even more control over the quality of your vapor. No matter which of these units you choose, you will love all of their advanced features, especially when you consider their price range!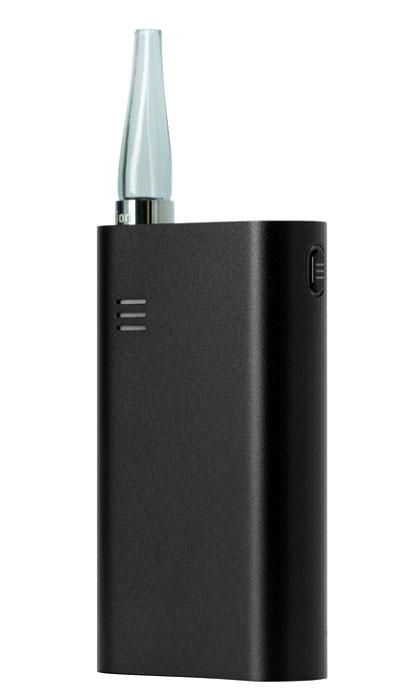 Zeus Smite
The Smite is a dry herb vape from the Canadian company Zeus. These vaporizers have a similar design to the Utilian units, with a sleek black 13.7 x 9.5 x 5.2 cm body. This little unit was actually the first vape that our founder tried, beginning his vaping journey and helping him get off of smoking. The Smite is discreet and the vape even features an internal chamber for mouthpiece storage so you don't have to worry about the glass mouthpiece in transit. This gives it a super discreet appearance, looking more like a mobile charger than a weed vape.
The Smite uses a single button for easy control over the three temperature settings. The ceramic heater takes about 45 seconds to reach operating temperature from a cold start and the Smite boasts an impressive 3 hour battery life.
The heater delivers solid clouds of vapor, making it a great option for new vape users.
Arizer Solo
The Arizer Solo is another vape from a Canadian company that has quickly become one of the most popular handheld units in the world. Simply put, the Solo is a powerful and efficient vaporizer that offers clouds of vapor that rival some desktop vaporizers.
The original Solo vaporizer is about the size of a small can of soda, measuring about 11.4 x 4.3 x 2.5 cm. The round design of the Solo means that it is not very pocketable, but it is still a very portable option. A small cover protects the ceramic heater and the weed is packed into the end of the draw stem, almost like using a glass chillum.
Using the Solo is pretty simple. All you have to do is hold both buttons and the built in LEDs will briefly show the battery level before allowing you to choose one of 7 preset heat settings. The heating chamber takes between 1.5 to 2 minutes to reach the selected temperature, at which time you can insert the packed stem into the heater.
The vapor quality from the Solo is amazingly clean and taking a hit off of this vape is akin to drinking a thick milkshake through a straw. This heavy draw resistance helps the Solo produce a nice thick vapor. After 12 minutes of use, the average time of a session, the unit will shut off to conserve battery. If you want to keep going you just have to turn it back on and reset the temp setting to enjoy the vape for another 12 minutes. The battery will last for about two hours of use, which gives you roughly 10 sessions per charge.
The original Arizer Solo is not long in production, so these vaporizers have a limited availability. Once we run out, we will not restock!
Arizer Solo 2
Due to the success of the Solo, Arizer produced the upgraded Solo 2. This vaporizer features a lot of features that Solo users will be familiar with and a few new features like a full LED display and the ability to set custom session temperature settings. No more clicking up to the next temperature, all you have to do is program how you want the vaporizer to heat your bud.
The Solo 2 also has an improved 3 hour battery capacity and a heat up time of 30 to 60 seconds. The Solo 2 is a little lighter than the original Solo, but it still has a nice heft to it. As an added bonus for Original Solo owners, all of your original unit's draw stems will fit the new model.
Arizer Air
The Arizer Air is the result of Arizer taking a look at the Original Solo and trying to produce a portable vaporizer that was more lightweight and compact without sacrificing quality. The Air measures 22 x 7 cm, making it thinner but longer than the Solo
Unlike the Solo, the Air is powered by rechargeable 18650 batteries. This means that you can easily carry a backup battery so you never have to worry about a dead vaporizer. The original Air has a quick heat up time and its operation is very similar to the original Solo, though it uses one multicolor LED to indicate the temperature setting.
Just like the original Solo, our inventory of original Arizer Airs is limited. Once these vapes are gone, they will not be restocked.
Arizer Air II
Along with the new Solo 2, Airizer also redesigned the Air and released the Arizer Air II. These new Airs look similar to the original but with a small LED display to control the temperature settings. The airflow has also been improved on these new models to offer clean smooth vapor every time.
The battery in these vapes last for about 90 minutes and the oven heats to 220 degrees C in a little over a minute. You can even rechange the battery while using the vape. Even though these vapes are more compact than the Solo, they are still not the most convenient for pocket carrying. You can always throw the vape, some prepacked stems, and an extra battery in your bag when you're on the go, but we recommend investing in a carrying case to keep the Air II and its accessories secure during transit.
Focus Vape
If you are looking for a vape pen for flower, the Focusvape is a great option. These vapes feature a comfortable leather textured body and an airpath made from pyrex glass, ceramic, and food safe metals. These vapes are 17 x 2.5 cm, making them pretty easy to pocket and a great option for throwing in a bag when you're on the move.
The FocusVape is a great option for new vapers because it is very intuitive. Just unscrew the mouthpiece, pack your weed in the chamber, and turn on the device. In about 2 minutes you will be ready to enjoy some flavorful vapor. Like most compact vaporizers, the FocusVape uses conduction heating to produce its vapor.
Like the Arizer Air, the FocusVape is powered by replaceable 18650 batteries, making it a great option for frequent vapers who don't want to get stuck with a dead vape.
Zeus Arc-GT
The final vaporizer that we will be looking at today is the Zeus Arc-GT. This premium handheld vape has a very sleek look to it and it measures in at only 2.25 x 4.2 x 8.7 cm, making it easy to pocket.
Unlike most of the vapes we have looking at so far, the Arc GT does not have a removable glass stem. Instead it features a gold plated heating chamber and a convenient heat exchanger built into the top of the vaporizer that cools your vapor before it reaches the silicone mouthpiece.
These vapes house a 3500 mAh battery that will power 90 minutes of use before needing a recharge. Each session will require an 80 second heat up time and users can cycle through three heat settings so you can perfectly toast your bud every time.
To see all of these amazing portable weed vaporizers and more, check out our store! We have carefully tested every portable vape we offer to make sure that they are easy to use and offer a clean tasting vapor. If you are looking for concentrate vapes or powerful home desktop units, we can help you there too. If you have any questions about any of the products we carry, feel free to reach out to our team by sending an email to info@rockyshorecannabis.ca. We're always happy to help our customers find the perfect alternative to smoking their bud.